Best Holiday Destinations In South Africa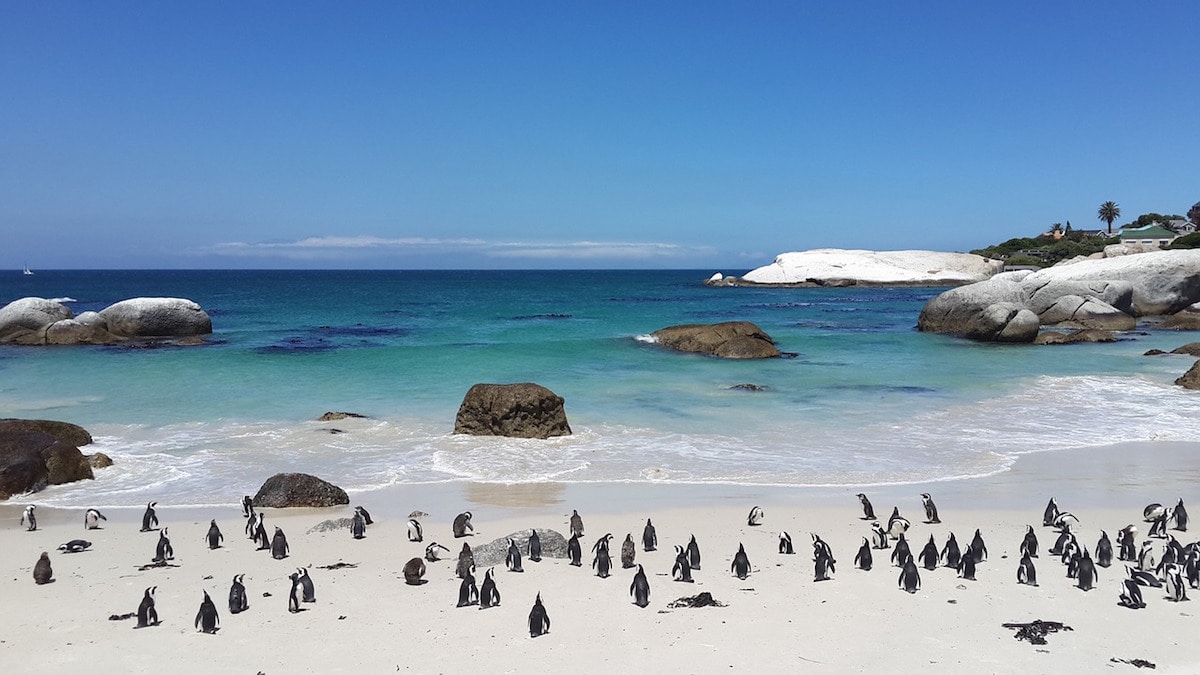 From Cape Town to Stellenbosch and Durban to Kruger National Park, these are the best holiday destinations in South Africa.
South Africa has been on my dream destination list for a long time now. From the country's amazing wildlife (big five, whales and more) to the wine regions, the beautiful scenery and the food, there are plenty of reasons South Africa is a popular holiday destination.
I've wanted to pop a South Africa blog together for a while, as I've had so many messages from you guys asking if I have any posts or tips on places to visit.
So I decided the best thing to do was to hand over to some of my blogger pals to recommend the highlights from their adventures in SA. So without further ado, here are the best holiday destinations in South Africa, by those who REALLY know!
Stellenbosch
Lucy from On The Luce absolutely loved Stellenbosch, South Africa. Here's why she thought it was so special…
South Africa's Stellenbosch is heaven for wine lovers. Valleys full of vineyards surround the town, and along with neighbouring wine regions Franschhoek and Paarl, it's home to hundreds of wineries. Stellenbosch is most famous for its Pinotage reds and Chenin Blanc whites, but there's a whole range of different grapes and wine styles, including some tasty sparkling wines that give Champagne a run for its money at half the price!
It's not just the wines that make Stellenbosch worth a visit though, there's also its beautiful scenery. One of the best ways to explore is to hire a bike and ride out along the country roads. Stellenbosch is only half an hour outside Cape Town so you can easily visit on a day trip, but it's worth staying for a night or two and soaking up the relaxed atmosphere.
It's South Africa's second oldest town and is packed with period charm, with historic Cape Dutch houses and streets lined with old oak trees. There are some gorgeous B&Bs and Victorian guesthouses where you can cosy up for the night, and some incredible restaurants at the wineries. But Stellenbosch's big student population means it's not too sleepy and you can finish your day in one of its clubs and bars if you're not already all wined out.
Cape Peninsula
Sylvia from Wapiti Travel absolutely loved South Africa's Cape Peninsula. Here's why she thought it was so special…
The Cape Peninsula makes a great day trip from Cape Town. A ride along the cape on a sunny day offers breathtaking views. The Cape of Good Hope is a highlight, but right next to it is Cape Point, the southernmost point of this peninsula. These may be some of the highlights of your day trip but there's plenty more to explore.
Animal lovers will be endeared by the cute but noisy penguins at Boulder's Beach. It's easily one of the most unique holiday destinations in South Africa! You don't have to spend the whole day in the car. When you pass Kommetjie you can stop to make a romantic stroll in the surf at Long Beach. If you love hiking, look at the Farmer's Cliffs trail or any of the other hikes available in the Cape Point Nature Reserve. The trails range from 2 hours to 2 days!
Lastly, you have the famous Chapman's Peak Drive, often cited as one of the most beautiful roads in the world. The route winds along the coast and is completely carved out of the rocks. Plan your trip so that you arrive shortly after sunrise or before sunset. The sun casts beautiful yellow colours on the rocks, making for magical photos.
Find out where else Sylvia loved in her 2 Week South Africa Itinerary.
Knysna, South Africa
Elaine and Dave from Show Them the Globe absolutely loved Knysna, South Africa. Here's why they thought it was so special…
The waterfront town of Knysna is a highlight of the Garden Route and is a fantastic place to visit in South Africa. Knysna is most well known for the Knysna Heads, two imposing sea cliffs which protect the entrance to the Knysna Lagoon from the relentless Indian Ocean. A boat trip to the Knysna Heads features on most Knysna itineraries and it is spectacular to watch the sea crash through the narrow gap at the entrance to the lagoon.
Knysna is surrounded by lush green forests and sandy beaches. Long days at the beach, boat trips and hikes in the Featherbed Nature Reserve are must-dos. It is also famous for two local delicacies, its oysters and its beer. You absolutely must try them when you visit!
The nearby town of Wilderness is home to the Map of Africa where, from a spectacular viewpoint overlooking the Kaaimans River Basin, it's possible to see where the flow of the river has formed a piece of land shaped exactly like a map of the African continent. The mix of mountain, forest and river is a beautiful sight and it is well worth the short jaunt from Knysna.
Cape Town
Christine from The Travelling Pinoys absolutely loved Cape Town, South Africa. Here's why she thought it was so special…
Cape Town is one of the most stunning places I've ever been. Voted as one of the best cities in the world by Travel and Leisure magazine, Cape Town boasts one of the most stunning landscapes in the world. The panoramic view of the city bowl is out of this world. There's the natural amphitheatre-shaped area of Cape Town bordered by Table Bay and surrounded by the mountains of Signal Hill, Lion's Head, Table Mountain and Devil's Peak – just mind-blowing for photography!
Along with its stunning landscapes, there are plenty more reasons to add Cape Town to your South Africa itinerary. There are beautiful beaches (although the water is freezing cold all year round!) amazing wildlife, rich history, world-class architecture and diverse culture too.
Cape Town also boasts some of the most scenic drives in the world. From Chapmans Peak, with its views of the cliffs and the ocean, to Victoria Road in Camps Bay where you'll be amazed by Twelve Apostles and the million-dollar houses on its foot, you'll be reaching for your camera regularly.
This city is also famous for its top food and wine scene. Plus, if you love the great outdoors, you can hike, surf, windsurf and plenty more around Cape Town.
And the best part? Cape Town is fairly affordable right now! Plus looking is free!
Hermanus
Nicole La Barge absolutely loved Hermanus, South Africa. Here's why she thought it was so special…
One of my favourite stops on my tour through South Africa was the small town of Hermanus just outside of Cape Town. It's a seaside town with wonderful places to eat and shop, but the best thing is that it is THE place to see southern right whales in South Africa.
Located in Walker Bay it is the premier place to watch the whales frolic in the waters. You can actually see the whales from the shore! Funnily enough, there's a town crier who blows a horn every time a whale is close to the shore. Along with spotting them from the bay, you can also take a boat cruise to see the whales. I'd recommend both because most of the whales are on the other side of the bay, so you tend to see them being more active and maybe even breaching.
The best time to see the whales in Hermanus is between May to December when the whales are visiting the warm waters to mate and calve. It's an incredible experience to see them, so this is definitely one of the best holiday destinations in South Africa.
Kruger National Park
Kate from Our Escape Clause absolutely loved Kruger National Park, South Africa. Here's why she thought it was so special…
Kruger National Park is known worldwide as one of the best places for a safari, and the fact that it is easily accessible in South Africa (about a 7-hour drive from Johannesburg or a quick flight to Nelspruit) is a bonus!
Come to Kruger National Park is be amazed to see some of the globe's most impressive wildlife: not only is Kruger a fantastic place to try to spot the famous big five (lion, rhino, leopard, water buffalo, and elephant), it's home to many more fantastic creatures as well.
Everything from zebras, hyenas and giraffes, to hippos and warthogs can be spotted in Kruger National Park, and after seeing all of these animals in person, you just may walk away with a couple of new favourites!
Though you can book guided game drives in Kruger National Park, it's also a popular place for a self-drive safari. Simply grab a map, hop in your car, and set off in search of animals. They are surprisingly easy to find, and for me, there was nothing more magical than observing wild elephants up close for 20 minutes with no one else around!
Tsitsikamma National Park
Anna from Would Be Traveller absolutely loved Tsitsikamma National Park, South Africa. Here's why she thought it was so special…
Tsitsikamma National Park should be on every South African itinerary. It's the place to be for thrill-seekers and nature lovers, as well as those looking to relax.
For adrenaline junkies, not only can you bungee jump off one of the highest bungee bridges in the world above Bloukrans River (216m!) but you can also go zip-lining, kayaking and snorkelling too. For those who prefer to explore, the dramatic coastline in Tsitsikamma has some beautiful walks and trails overlooking crystal clear waters. Lucky visitors may even be able to spot some of the park's wildlife, including rock hyrax, dolphins and Blue Duiker (a tiny species of antelope). Otherwise, relaxing in one of the restaurants on the seafront is a great way to spend time too.The National Park is also the official start of the Garden Route, which means it's full of forests just waiting to be explored. Visitors can even marvel at the 2,000-year-old tree, which is just on the outskirts of Storms River, where most people stay when in the Tsitsikamma area.
Storms River has a wonderful village vibe, with a huge variety of guest houses and hotels, as well as plenty of grocery stores and restaurants for visitors to re-fuel following a busy day in the park.
Durban
Verushka from Spice Goddess absolutely loved Durban, South Africa. Here's why she thought it was so special…
Durban is without a doubt a hidden gem in South Africa. Often skipped in favour of Cape Town and Kruger National Park, Durban is a vibrant coastal city and a melting pot of flavours and culture. With great weather all year round it's a great place to visit on your South Africa holiday.
The Durban food scene is incredible, with the iconic Bunny Chow a must-eat! Don't know what it is? It's a hollowed-out loaf of bread filled with a spicy lamb, chicken or bean curry, which is eaten with your hands.
Along the Golden Mile, you'll find colourful rickshaws – a part of the city's history when only the strongest Zulu men would be given this job.
Victoria Street Market is a must-visit for tourists and locals. A shopper's paradise you'll find local Indian spice shops, traditional African herbs, jewelry and clothing. It's one of the most affordable holiday destinations in South Africa.
Amakhala Game Reserve
Sam from Yokomeshi absolutely loved Amakhala Game Reserve, South Africa. Here's why she thought it was so special…
Amakhala Game Reserve is located in the Greater Addo region of the Eastern Cape and at the Northern end of the Garden Route. Just a 50-minute drive from Port Elizabeth Airport, the private game reserve offers a combination of budget and luxury accommodation. My personal favorite is the mid-range accommodation at Leeuwenbosch Country House.
Home to the elusive big five plus a whole host of other wildlife including zebras, wildebeest, antelopes, giraffes, and vervet monkeys, a game drive at Amakhala is always full of life. The reserve is unique, as it also has a river which guests are invited to cruise down for more wildlife spotting.
Aside from wildlife, the malaria-free game reserve is also packed with scenic views perfect for sundowners with a gin or South African cider! The reserve boasts year-round wildlife viewing however the best opportunities are seen from June to September – the driest months when the animals are more attracted to the natural water sources.
The Wild Coast
Erin from Sol Salute absolutely loved The Wild Coast, South Africa. Here's why she thought it was so special…
When I came across the Wild Coast while researching our trip to South Africa, I knew we had to go. I even rearranged our entire itinerary to make it happen! The Wild Coast, also known as the Transkei, makes up a large portion of the South African Eastern Cape.
We stayed at Mdumbi Backpacker's hostel (near the famous Coffee Bay but more peaceful). Mdumbi works with the local community and even shares their property with the local kindergarten! It felt good to stay in a place that focuses on ethical practices. It allowed us to interact with people from the village, who worked at the hostel or gave tours.
The rolling green hills and expansive beaches were even more beautiful than the photos I'd seen before coming (and the photos are pretty stunning!) We spent our days lounging on the beach or in the hammocks.
The only time we ventured out of our relaxed stupor was to go on a tour of the village. Two young men took us along the paths that weave amongst the rondavels (South Africanhuts). We explored where we'd never have dared to go without a local, which really made the Wild Coast a highlight of our South African road trip.
This post was sponsored by Flight Centre which offers plenty of holidays to South Africa. Before traveling, don't forget to fill out a traveler health questionnaire to enter South Africa. Big thanks to all the fab bloggers who have recommended places for my South Africa bucket list. Must be time to book a flight soon!