The month of May is basically the gateway to summer and it is a wonderful time to visit Morocco, especially for travelers who love to spend time outdoors. The heat of the day is still reasonable in most places, and nature is in full bloom. From the coastline to the mountains, the natural beauty of Morocco is impossible to ignore. For those wondering when is the best time to visit Morocco, May might be the right option for you!
There are two popular festivals in Morocco in May – the Festival of Roses and Mawazine-Rhythms of the World Concert. With tourist traffic on the rise in May, be sure to book your tickets and reservations in advance so you won't find them sold out when you arrive.
May is a great time to enjoy the wonderful food of Morocco, too. Fresh fruits and vegetables are available all around and many areas are well known for the plants and food that is grown there. Be sure to bring your appetite so you don't miss out on all those delicious Moroccan flavors!
Morocco is a beautiful country to explore and May is the perfect time to do it. With a good pair of hiking shoes and your favorite camera, you'll have all you need to capture the breathtaking sights you'll discover along the way.
WEATHER IN MOROCCO IN MAY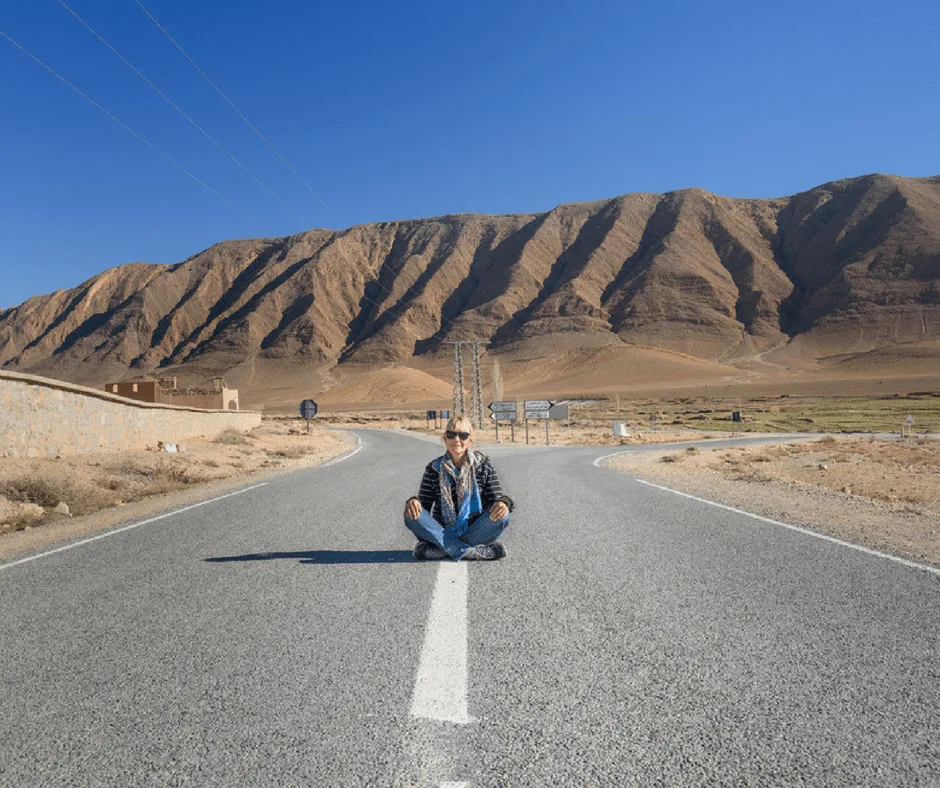 The days get much warmer in May in Morocco, with the average temperature ranging from a low of 15C to as high as 29C in inland cities such as Marrakesh. Along the Mediterranean coast, the ocean breeze keeps things a bit cooler, with an average high of 22C in Tangiers and 23C in Casablanca. At night, the temperatures on the coast can get as low as 8C so be sure to have sweaters and light jackets handy, even in May.
Many people wonder what Marrakech weather in May is like or Agadir weather in May – these are two popular destinations for this time of year. In Marrakech you'll find temperatures around 28C during the day and 15C at night while coastal Agadir is slightly cooler with daytime temperatures around 23C and 13C at night.
The farther into the desert you get, the higher the daytime temperatures will be. Some places can be uncomfortably hot, especially for those sensitive to heat. On the other hand, a visit to the Atlas Mountains in May will feel downright refreshing, with temperatures averaging 22C during the day and dropping significantly after the sun goes down.
WHAT TO WEAR IN MOROCCO IN MAY
With Morocco's weather in May getting much warmer, having a great selection of lightweight clothing is a good idea. Jeans and capris are good, as well as slacks, and long skirts and dresses. Cotton fabric is wonderful because it breathes and helps keep you cooler than polyester.
But although the days are very warm in many places, always be prepared for cooler evenings and nights by dressing in layers and have a sweater or hoodie handy. Even on the beach or in the desert, it can get surprisingly chilly when the sun goes down.
Although it can be pretty warm in many parts of the country, keep in mind that people do dress conservatively in Morocco. The more you can dress with this in mind, the better. For example, you may decide it is just too hot to wear anything but shorts. But if you cover those shorts with a longer, lightweight, flowy skirt, you'll still feel the cool breeze on your legs. But you'll also be less likely to offend someone or invite uncomfortable and unwelcome comments.
Other items to consider: Hats and sunglasses to shield your eyes from the sun, lightweight scarves to cover your hair or your shoulders, short sleeve or 3/4 length sleeve shirts, sandals, walking shoes, and a lightweight jacket for cool evenings, just in case.
FESTIVALS AND CELEBRATIONS IN MOROCCO IN MAY
Early May (Date Varies) – Mawazine – Rhythms of the World Concert, Rabat – Mawazine is an amazing global music festival that takes place every year in the city of Rabat. Local musicians perform alongside well-known artists from around the world. Some of the headliners from previous years include Rihanna, Carlos Santana, and Robert Plant. This is a must-see for all fans of music from around the world!
Early to Mid May (Date Varies Based on Harvest) – Festival of Roses in El Kelaa M'Gouna – The Festival of Roses is one of the most beautiful celebrations to be found in Morocco. Located in the town of El Kelaa M'Gouna in the Valley of Roses, the festival celebrates the harvest of the Damascus rosebuds used to produce rose water, an important ingredient in Middle Eastern food.
With stalls of delicious food, singers, Berber dancers, and even a parade, the Festival of Roses is an experience of a lifetime. But keep in mind if you want to go to see the fields of roses you'll need to go BEFORE the festival. By the time it rolls around the harvest has been completed.
WHAT TO DO IN MOROCCO IN MAY
May is a popular time to visit the country of Morocco. The days are warm and sunny, the evenings are cool and friendly, and all of nature of in full bloom. It is the perfect time to explore the natural landscape of Morocco to enjoy the amazing beauty of North Africa.
If you love the beach, you'll find the surf to be especially wonderful in May. Watch the surfers or get out and show off your skills as you ride the waves yourself. Go hiking in the mountains, explore old ruins, or spend the day wandering the winding alleys of a local Kasbah. Whatever you decide to do, May is a lovely time to be outside in Morocco.
Tourist traffic can be a bit heavy in May, so it is helpful to keep that in mind when making travel plans. Be prepared to be patient when visiting areas that are popular with tourists and you may find that the crowds actually increase the excitement and enjoyment of your explorations.
BEST PLACES TO VISIT IN MOROCCO IN MAY
El Kelaat M'Gouna
El Kelaat M'Gouna is a town in the Dades Valley in the High Atlas region, located approximately 100km northeast of Ouarzazate. This beautiful area is famous for the lovely Rosa Damascena rosebuds (Damascus Rose) that are grown there. In mid to late spring, there are roses as far as the eyes can see. This breathtaking view alone is worth the visit. If you make it in time for the Festival of Roses celebration, you are in for a real treat.
Whether or not you visit in time for the festival, the Dades Valley is a place of beauty for nature lovers to explore. The mountainous region is great for hiking and exploring and tour guides are generally available to help you find your way to ruins, rock formations, and other wonders of nature.
If you are in town on a Wednesday, be sure to visit the local souk to enjoy delicious food and the amazing craftsmanship of the local people.
The nearby village of Azlag is the home of over 100 skilled blacksmiths. They are well known for crafting some of the finest daggers in Morocco. A visit to the local kasbah is a must.
Rabat

The busy city of Rabat is Morocco's capital city, and home to the annual Mawazine – The Rhythms of the World Concert in early May. Whether you enjoy a visit to the Mawazine or not, there is much to see and do in this modern city on the Atlantic coast.
May is the perfect time for enjoying a nice walk in the Kasbah district. Surrounded by fortress walls built in the 11th century, this beautiful area is filled with winding alleyways and wonderful sights to enjoy and capture in pictures. Be sure to find your way to the Kasbah Mosque, which was built in 1150!
Another lovely place to visit is the Kasbah Oudaya. Popular with artists and nature lovers alike because of its beauty, it houses the Palace Museum and Andalusian Gardens. The museum, a Palace built in the 17th century by the first Almohad sultan, Moulay Ismail, is filled with a richness of Moroccan art and culture, including an amazing collection of locally crafted rugs. The breathtaking Andalusian Gardens fill the old palace grounds with a colorful assortment of oleanders, fruit trees, and other lovely plants and flowers.
Ouarzazate

The city of Ouarzazate is also known as the "Hollywood of Morocco", due to the presence of film studios there. Lawrence of Arabia was filmed there and the location has been used much more recently for the popular TV show Game of Thrones. Located an hour and a half from El Kelaa M'Gouna, the beautiful valley of roses, Ouarzazate has a great deal of beauty to share, as well.
Be sure to take pay a visit to the village of Ait Ben Haddou and take in stunning views of beautiful old Moroccan architecture. The village is so picturesque, it has often been used as a setting for films. This Unesco World Heritage Site invites you to capture one beautiful photograph after another!
If you are in Ouarzazate on a Sunday, be sure to head to the Sunday Market. Filled with a richness of foods and handcrafted items, you'll find much to see and enjoy. It's a great place to find the perfect gift or souvenir for your loved ones back home!
Kenitra
Kenitra is a beautiful city just north of Rabat and is a great location for tourists. From the beautiful beach to historical sites to modern shopping malls, you'll find much to see and enjoy in the area!
If you love the ocean, spend some time soaking up the sun on Mehdia beach. Watch the surfers, wade in the water, or even take a camel ride – or just kick back, relax, and think about nothing at all!
If you love nature and history, you'll find a lot of both at the archaeological site of Thamusida. Once a river port in the Roman era, the beautiful ruins are a great place to enjoy taking a step back in time.
May is a truly magical time to visit Morocco. With so much to see and do, both indoor and outdoors, you will make amazing memories to last for the rest of your life!