California, the third-largest state in the US, is jam-packed with a blend of urban, natural, and cultural destinations. Road trip to its nine National Parks or zip between bustling cities and desert oasis. Any way you slice it, there is no shortage of opportunities for exploration amid spectacular scenery. Read on for the 20 best places to visit on your next trip to Cali.
Big Sur
Dramatic cliffs and pristine ocean views await at Big Sur, one of Central California's most stunning areas. Due to strong ocean currents, its beaches are not ideal for swimming, but they are ripe for sunset strolls and idyllic picnics. Big Sur's most popular beach, if not its most photogenic, is Pfeiffer Beach. Visitors flock to its shores (which can turn purple from manganese garnet rocks!) to see Keyhole Arch, a rock formation popular with photographers.
Further north, more gems are found, including Bixby Bridge, which was built in 1932 for an astonishing steal of a deal – $200,000 US dollars. Engineers thoughtfully opted to build it with cement as it better camouflaged into the natural landscape – as best as an imposing 260-foot bridge can, that is. Today, visitors can thank these engineers for constructing one of California's most emblematic sites.
Death Valley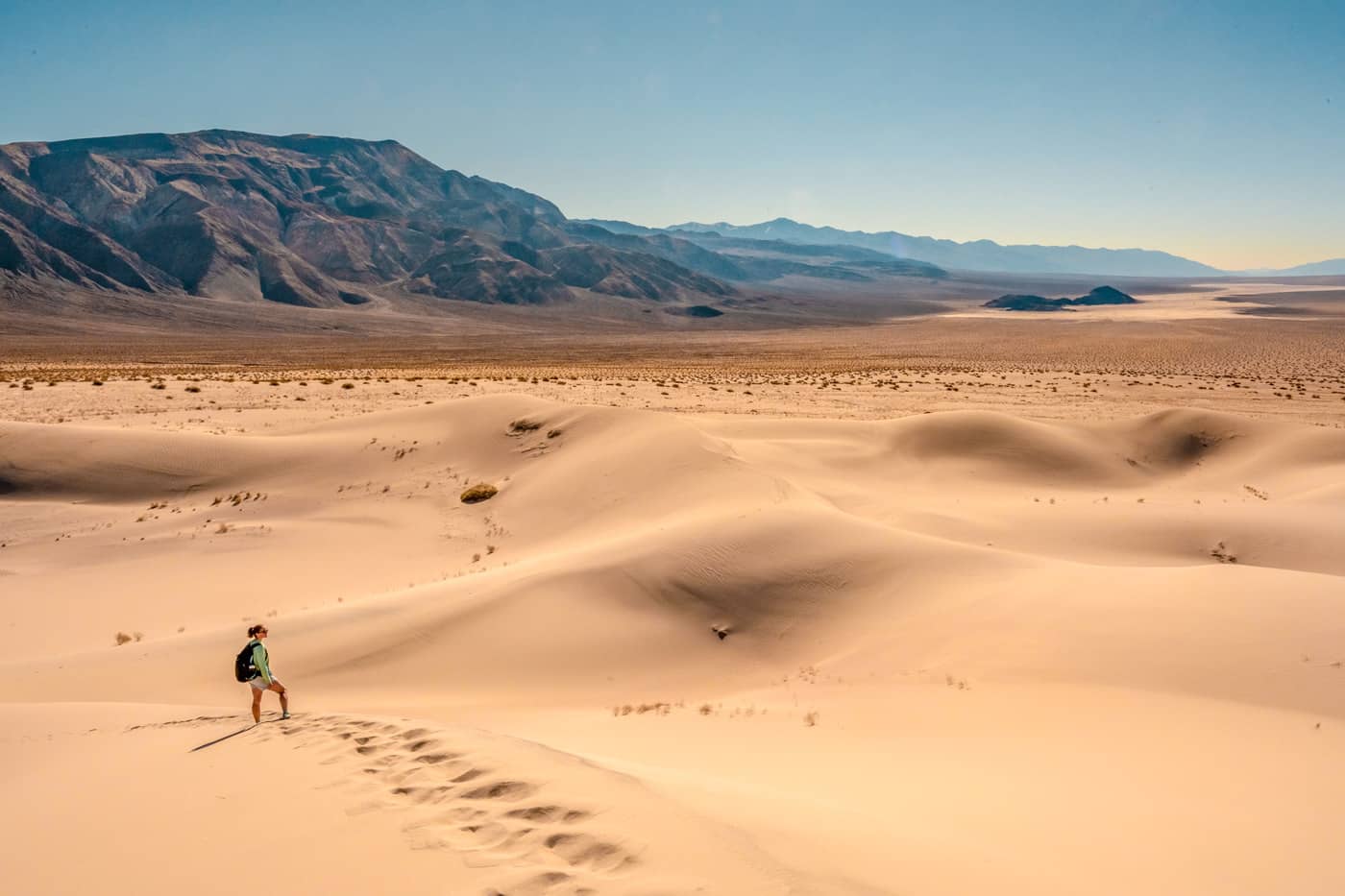 For a destination of extremes, look no further than Death Valley National Park. Not only is it the lowest point in North America, with Badwater Basin's salt flats clocking in at 86 meters (282 feet) below sea level, but the hottest temperature on Earth (56.7° C /134° F) was recorded at the aptly named Furnace Creek Ranch. And yet, wildflowers continue to bloom and snow-capped mountains loom in the background.
Death Valley inspires infinite curiosity; rainbow-colored rocks make up Artists Palette, the curvaceous sand dunes of Eureka Dunes "sing", and small ghost towns dot the park. Much of it is answered by science, such as the oxidation of metal deposits coloring rocks and "singing" caused by shifting sand grains, but some mysteries endure. One of the most compelling curiosities is Racetrack Playa, a dry lakebed where rocks weighing hundreds of kilograms inexplicably move an equally impressive distance, leaving trails in their wake. This is also a fantastic spot for stargazing as its unobstructed landscape and lack of light pollution provide unmatched views.
Santa Monica Pier
When conjuring images of a quintessential Southern California city, you're likely picturing Santa Monica. This beachside paradise offers all things classic Cali: towering palms, a picturesque boardwalk, and more tacos than you knew you needed. Within its compact downtown area, you'll find colorful murals and excellent restaurants for any appetite, but the main attraction is Santa Monica Pier, the heartbeat of the city.
By day, the Pier is filled with sunbathers and friends playing beach volleyball. After the sun sets – and this is one of the best places to catch it – Pacific Park, a mini-amusement park, lights up for evening fun.
Catalina Island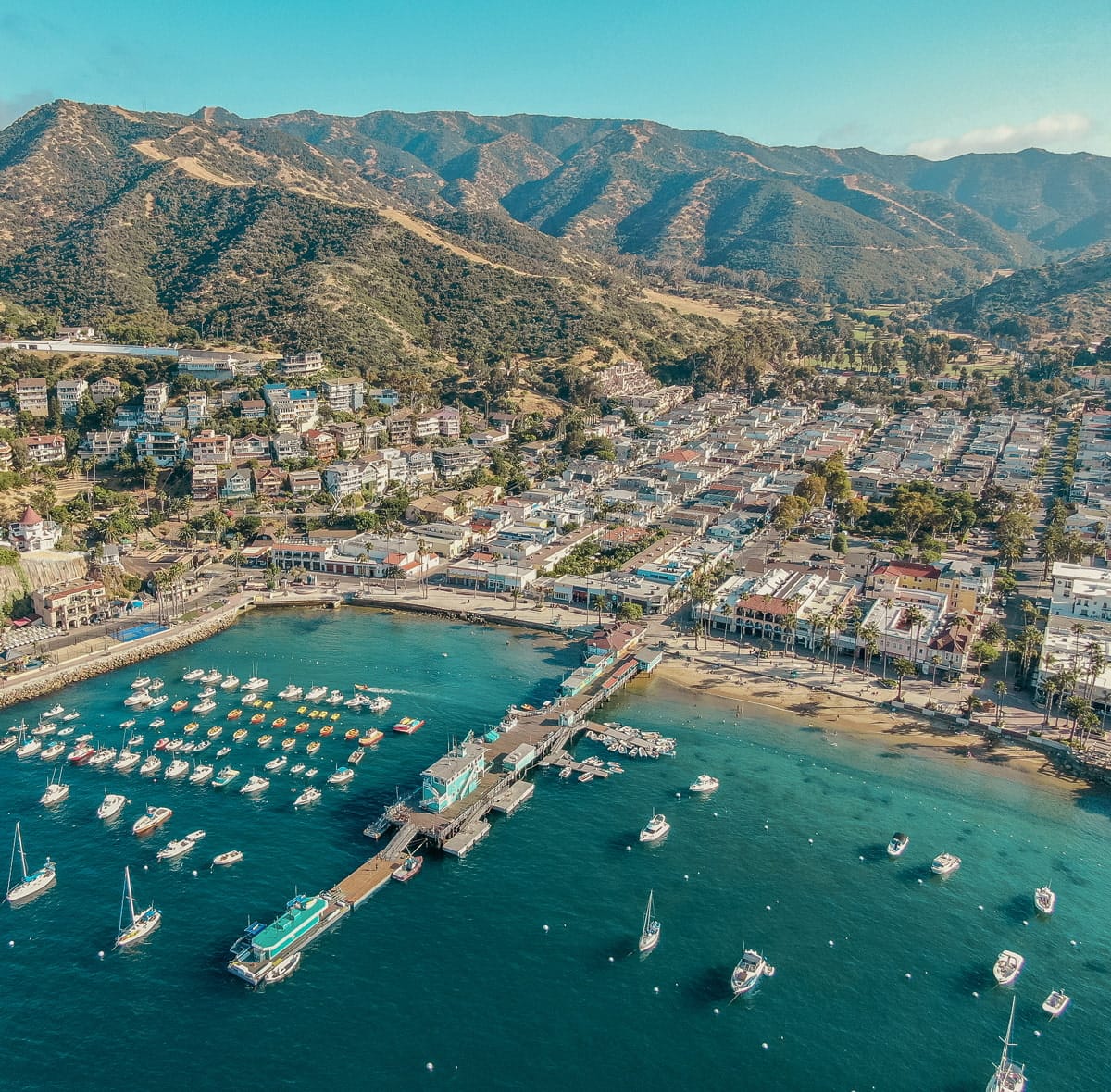 Catalina Island is a quick trip from the mainland while feeling like a world away. Part of Channel Islands National Park, it attracts a variety of travelers, from outdoor enthusiasts and history buffs to those ready to unwind and relax.
Its most popular area is undoubtedly Avalon Bay, a pleasant seaside town with ocean vistas and a lively atmosphere. Here, an assortment of shops and restaurants abound, and is even home to the Catalina Wine Mixer – a wine and music venue made famous by Will Farrell in the movie Step Brothers. It's also a site for many films, including one from the 1920s that required bringing bison to the island. Producers found it too challenging to wrangle them back up, so today, descendants of these bison continue to roam the island, which is protected by the Catalina Island Conservancy.
Avenue of the Giants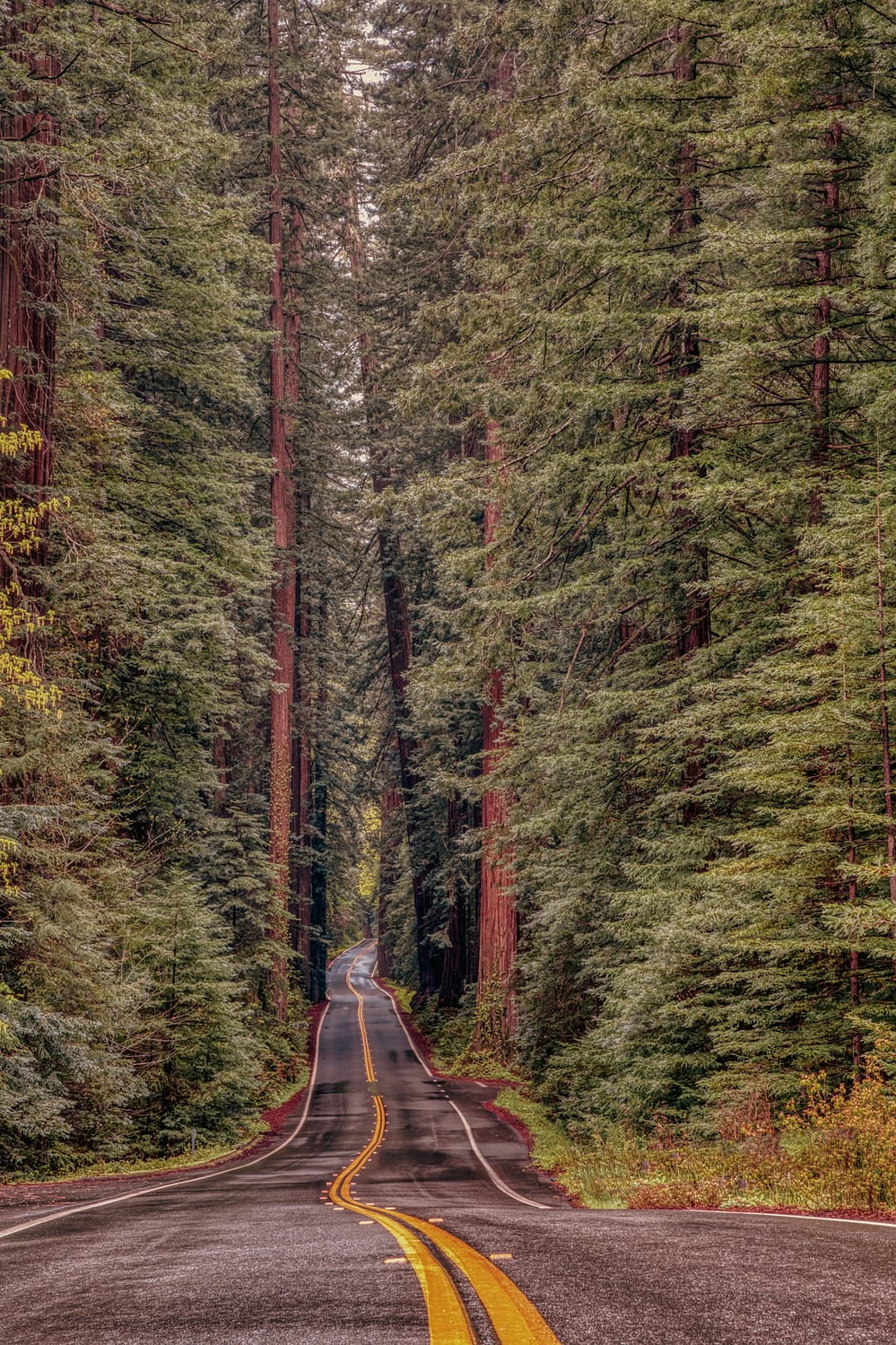 If there were ever a place to make one feel minuscule, the Avenue of Giants is it. This unmissable drive is located in Northern California's Humboldt Redwoods State Park, home to a large concentration of Redwood trees. Visitors cruise along the 50 km (31 mi) road as it gently curves between immense tree groves and take in the rich greenery and lush forest vegetation.
Along the route are trails that allow you to meander into the woods and frolic among some of the oldest trees on the planet. Being beside thousand-year-old Redwoods that commonly reach heights equivalent to skyscrapers makes for an unforgettable experience.
El Matador State Beach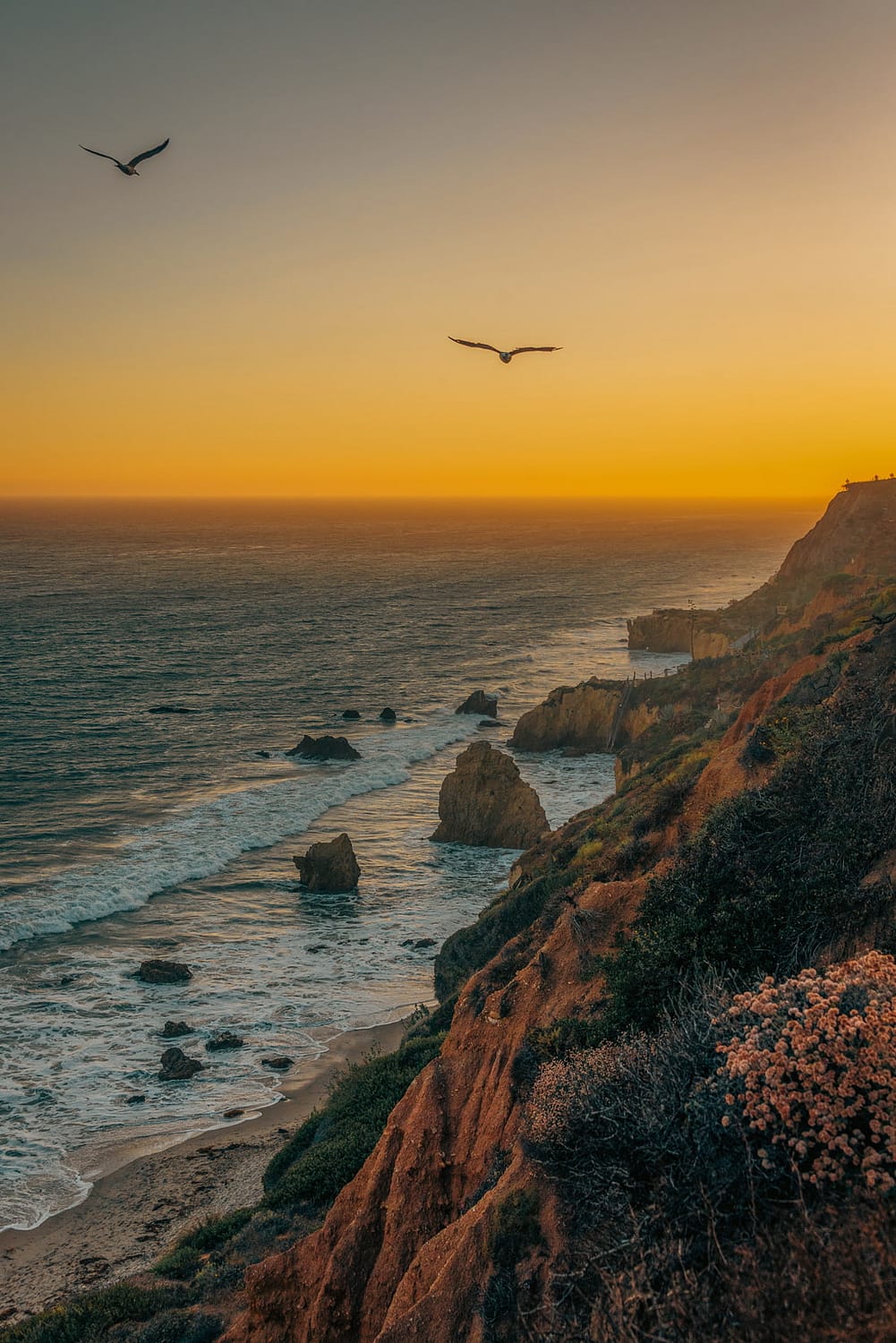 Malibu is a picturesque city on the coast that boasts resplendent beaches and outstanding scenery. Its high housing prices bring wealthy celebrities, though high ocean waves entice surfers. With the range of people it attracts, Malibu expertly fuses upscale amenities with a relaxed atmosphere.
Both tourists and locals flock to the dozens of small beaches scattered along the coastline, though Matador State Beach stands out for its imposing sea stacks and scenic bluffs. For a perfect day, start by enjoying a picnic on the cliffside, then mosey to the beach to explore rock arches and sea caves. Before you know it, the sun will be setting and putting on its colorful nightly show.
San Francisco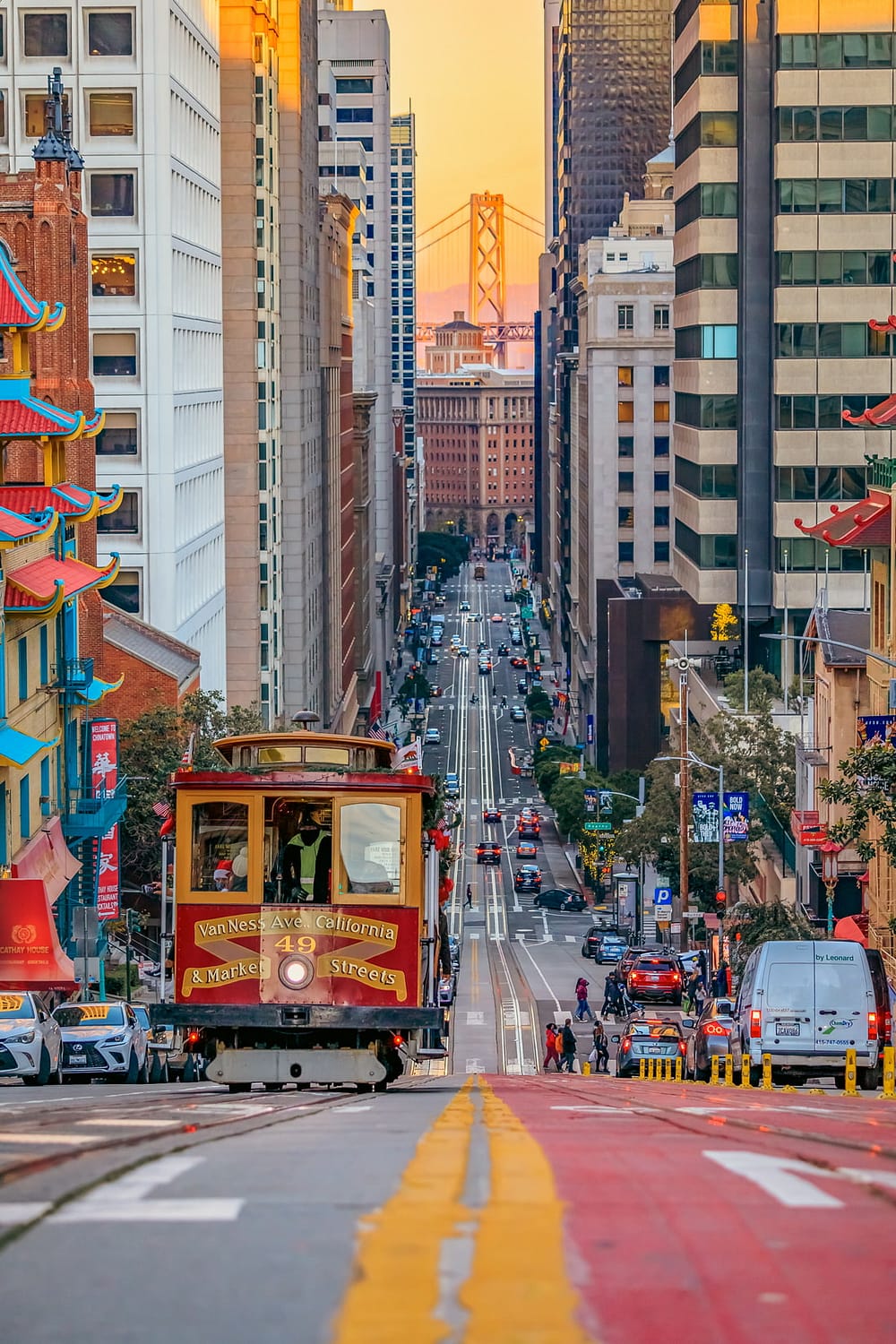 San Francisco is an exciting city that ticks all boxes; eclectic history, amazing scenery, diverse culture, and a fantastic food scene. Located on the northern coast, it's a bit cooler than its southern counterpart and is often enshrouded in fog, yet that's all part of its charm.
From the engineering feat that is Golden Gate Bridge to wandering historic Alcatraz Prison, opportunities for exploration are abundant. Must-see sights are spread across the city's diverse neighborhoods, including the Painted Ladies on Steiner Street, wandering Fisherman's Wharf, and strolling Lombard Street – which only scratches the surface of what this splendid city offers.
Napa Valley
Sprawling vineyards, striking scenery, and cozy resorts? What more could you want from a California getaway? The consistent sunshine that graces Napa Valley doesn't hurt its reputation either.
With hundreds of wineries to discover, a trip to Napa Valley can be daunting, but rest assured, it's virtually impossible to go wrong. The wines of Napa rival the best in France (though don't tell the French), and there is a distinct variety of wines and estates to fit any style. From sipping sparkling wine at a stunning château to cabernets at a modern vineyard or pinot noirs at a rustic lodge with expansive views, a trip to Napa never disappoints.
Pacific Coast Highway
For an endless array of eye-catching vistas, you can't beat a road trip along the Pacific Coast Highway. Stretching for 1,055 glorious kilometers (656 miles), it traverses the rugged California Coast from San Francisco in the north to the laid-back seaside town of San Diego in the south. Scattered in between are iconic California landmarks, such as the epic views from Big Sur and the lush valleys of San Luis Obispo. You can drive its length in 10 hours, but it's best enjoyed at a leisurely pace.
Yosemite National Park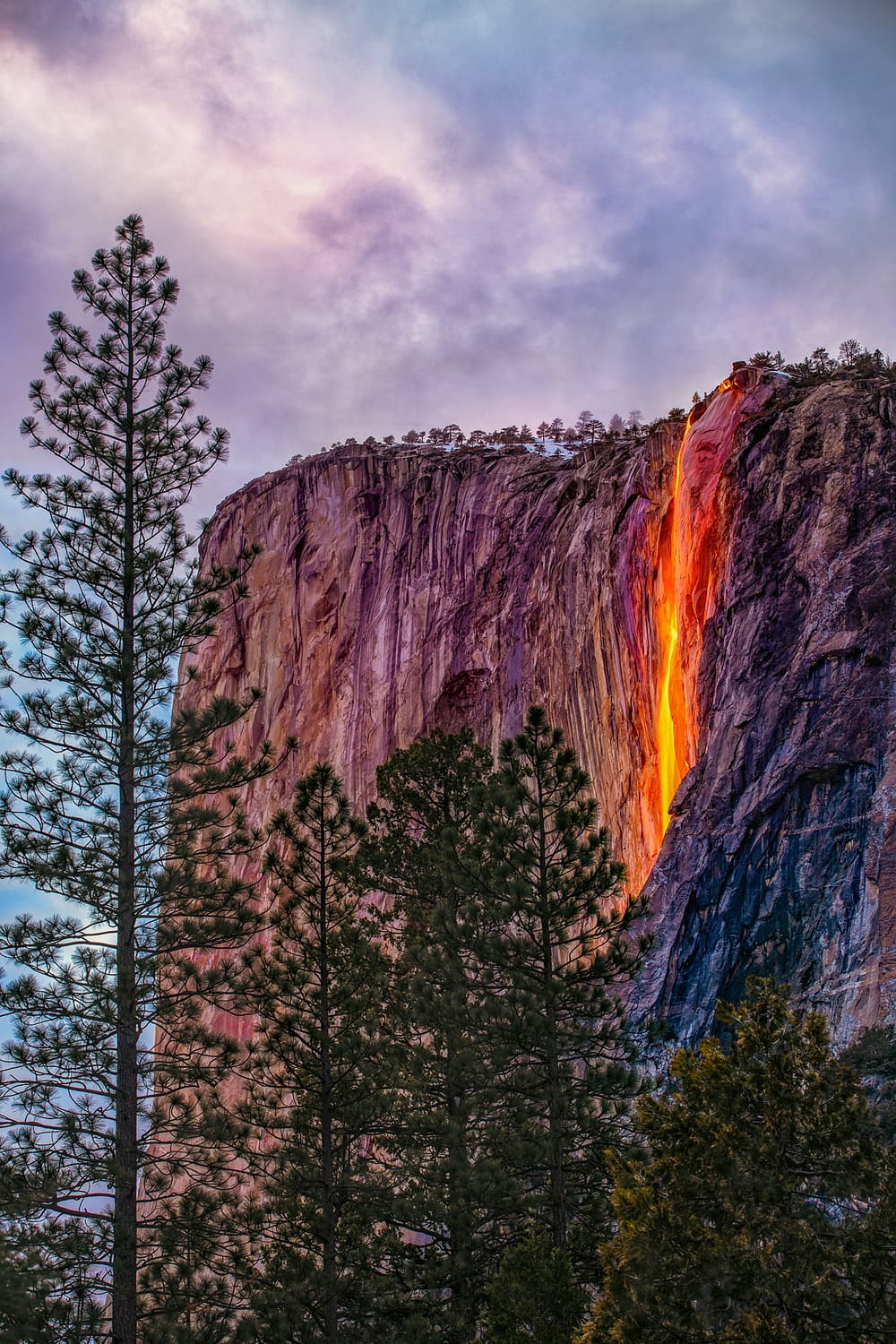 Yosemite National Park holds several impressive titles, including being home to the tallest waterfall in North America (Yosemite Falls) and the world's largest granite monolith (El Capitan). To top it off, it's sprinkled with 3,000-year-old Giant Sequoia trees that seemingly touch the sky.
While it sprawls across 302,000 hectares (747,000 acres), its most famous sites are within Yosemite Valley, an 11 km (7 mi) wide canyon boasting dramatic waterfalls and towering cliffs. Here, Half Dome dominates the horizon, which, true to its name, resembles a massive sphere sliced in half. Another must-see is El Capitan, a popular rock climbing route made more famous in 2017 when Alex Honnold free solo climbed its eastern face, which rises 914 meters (3000 feet) from base to summit.
For a spectacular experience, visit in early February when – for ten minutes each year if conditions are perfect – the sun perfectly illuminates Horsetail Fall, and its cascading waters suddenly glow bright orange and resemble a lava flow, giving it the nickname "Firefall".
Mono Lake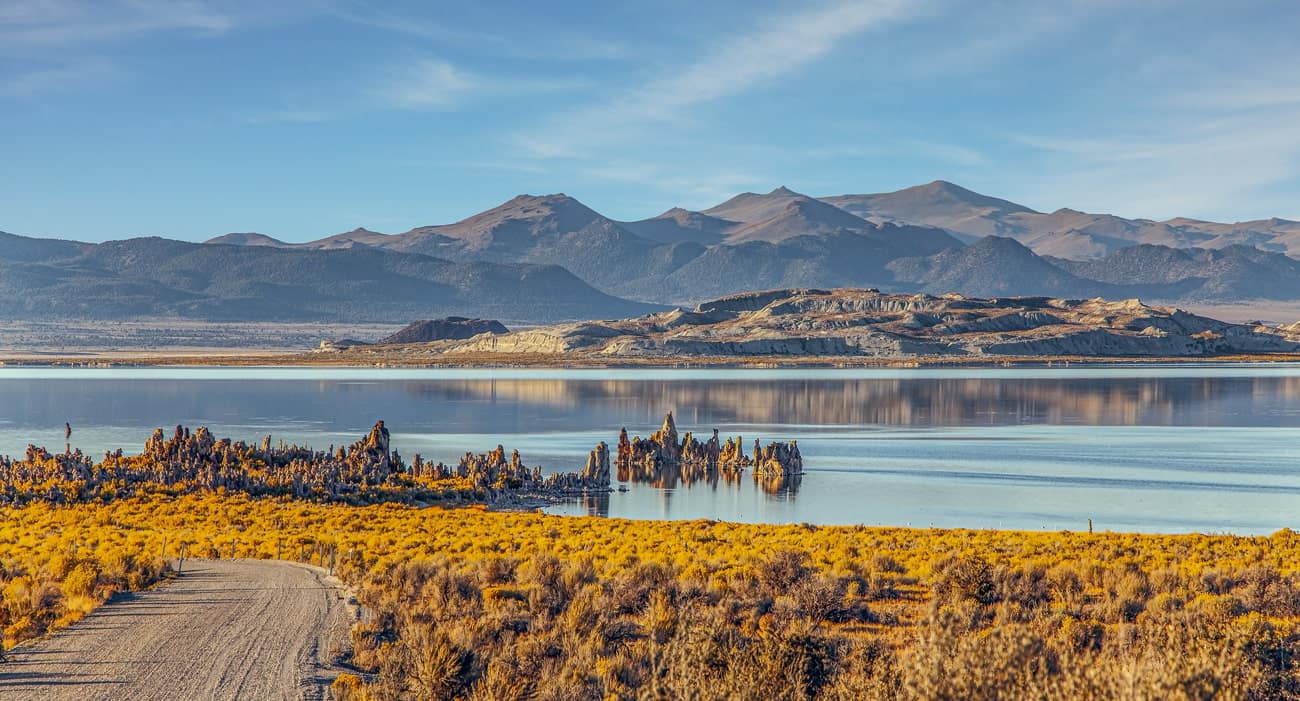 Drive due east of Yosemite and encounter one of North America's oldest lakes – which feels like landing on a strange planet. You see, Mono Lake is no ordinary lake; it has a unique ecosystem and interesting rock formations that make it a haven for geology enthusiasts and leave nature lovers in awe.
It's best known for its "tufa towers," the odd-looking rocks in and around the lake that are hard to miss. They are the result of calcium bubbling under the lake which hardens to create quirky rock structures – a phenomenon that has occurred for thousands of years. The lake's high concentration of salt also sets it apart. Not only will it have you floating like a buoy, but it creates an environment where brine shrimp thrive, which in turn brings an absurd number of migratory birds each year.
Solvang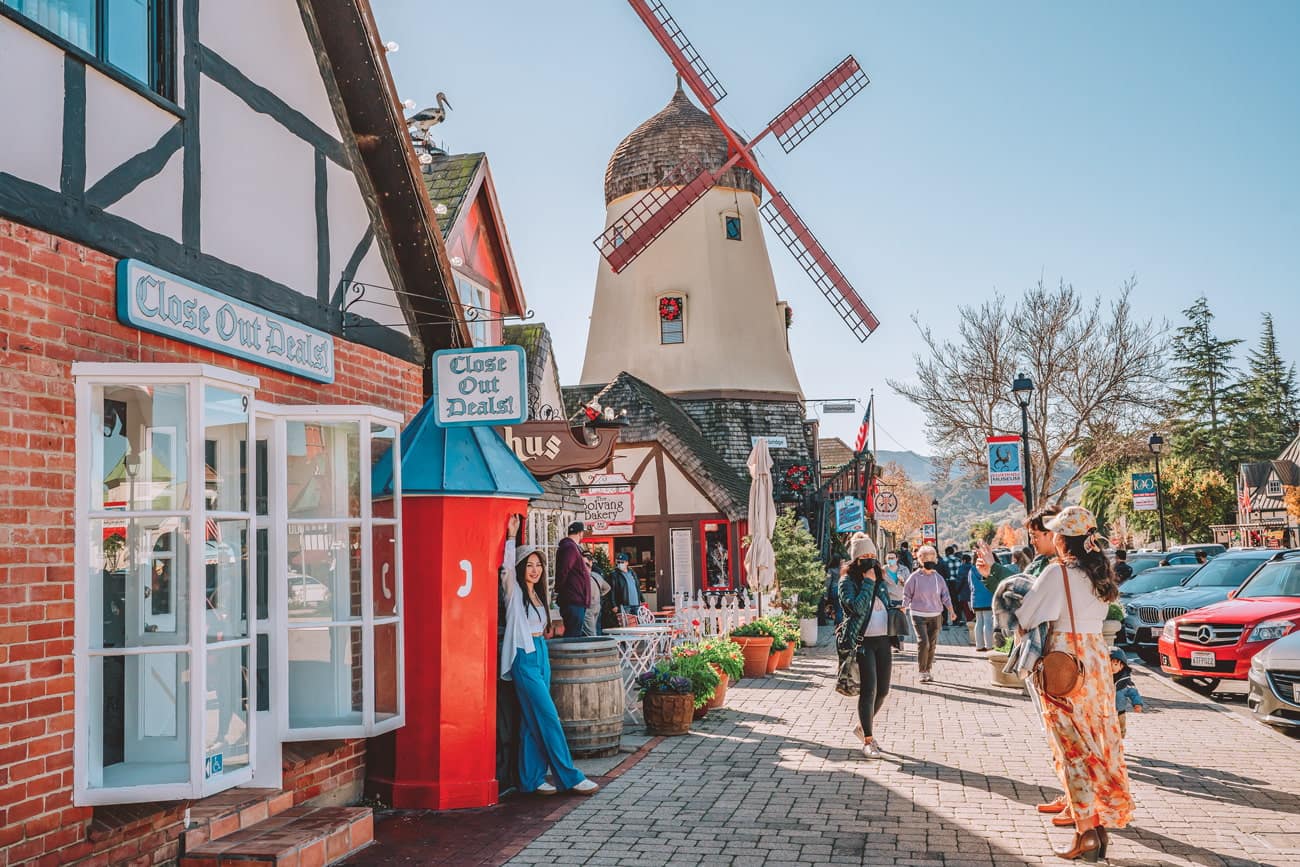 Denmark may not be the place you think of when imagining California, but the quaint town of Solvang feels like stepping into a Danish-inspired theme park. Founded in 1911 by a group of Danes, Solvang (which means "sunny field") became a place dedicated to Lutheranism and getting warm. Today, it is known more for its food scene and Nordic style than its religious roots, though the sunshine remains enticing.
As the "Danish Capital of America", it's surrounded by all things Nordic: wooden windmills, charming architecture, and delectable bakeries. If you're eager to embrace Dutch culture and history, be sure to stop at one of the town's many museums, including the Elverhøj Museum of History and Art or the Hans Christian Andersen Museum. From sausage and beers to fine dining and wine tasting, Solvang's food scene is worth a trip in itself, too!
Point Reyes National Seashore Park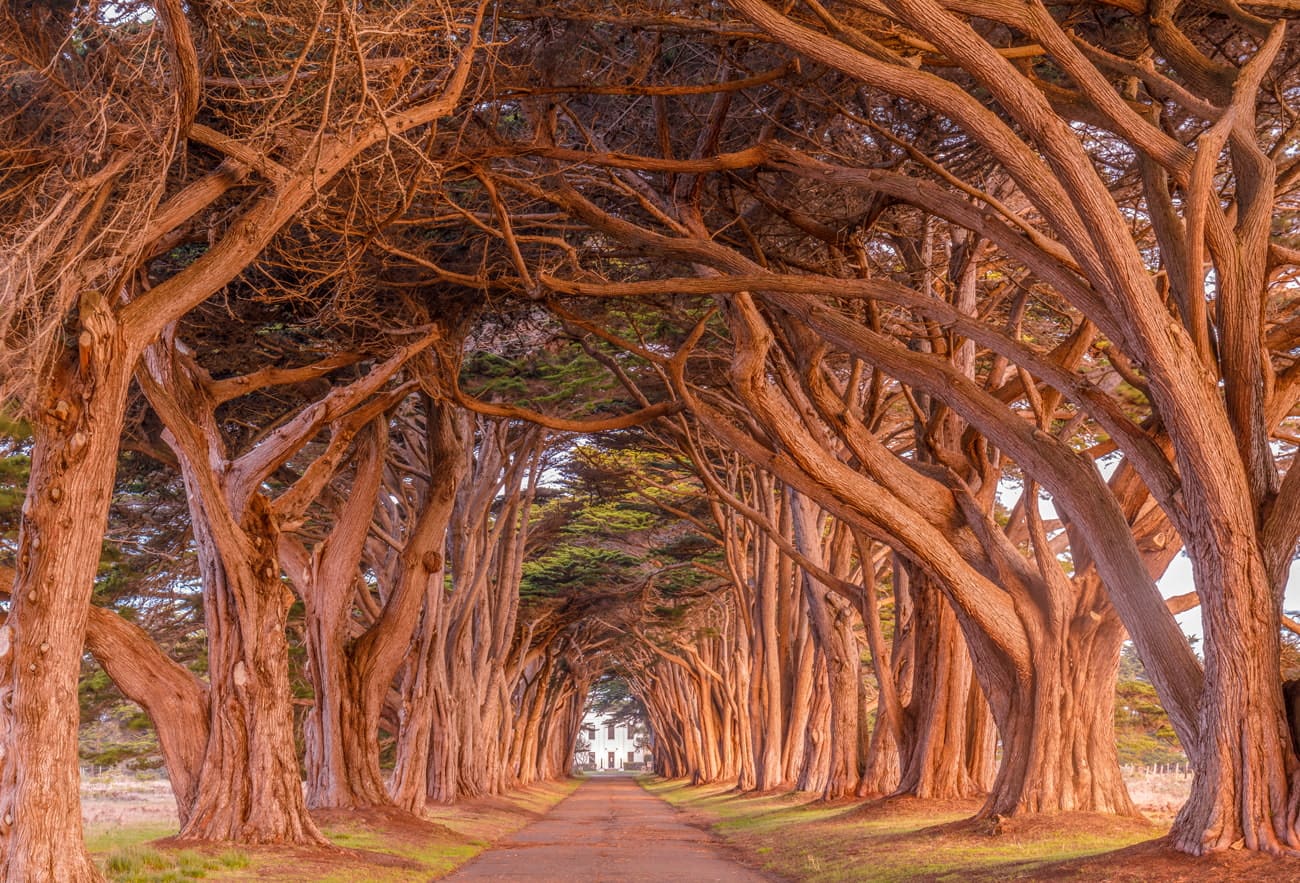 With its rolling green hills and jaw-dropping cliffs, Point Reyes National Seashore Park is reminiscent of Ireland's Cliffs of Moher. Driving there is half the fun as it lies on the ultra-scenic Pacific Coast Highway and weaves through sleepy coastal towns. Here, days are spent shucking oysters, enjoying quaint cafés, taking leisurely walks among its beautiful scenery, and spotting the marine wildlife that lazily graces the shoreline.
A must-see is the iconic Cypress Tree Tunnel, a road lined with Monterey cypress trees whose branches have entangled themselves to create a beautiful natural tunnel. The road eventually leads to the historic KPH Maritime Radio Receiving Station, an Art Deco-style building that has provided ship-to-shore Morse code telegram communications since the 1930s.
Joshua Tree National Park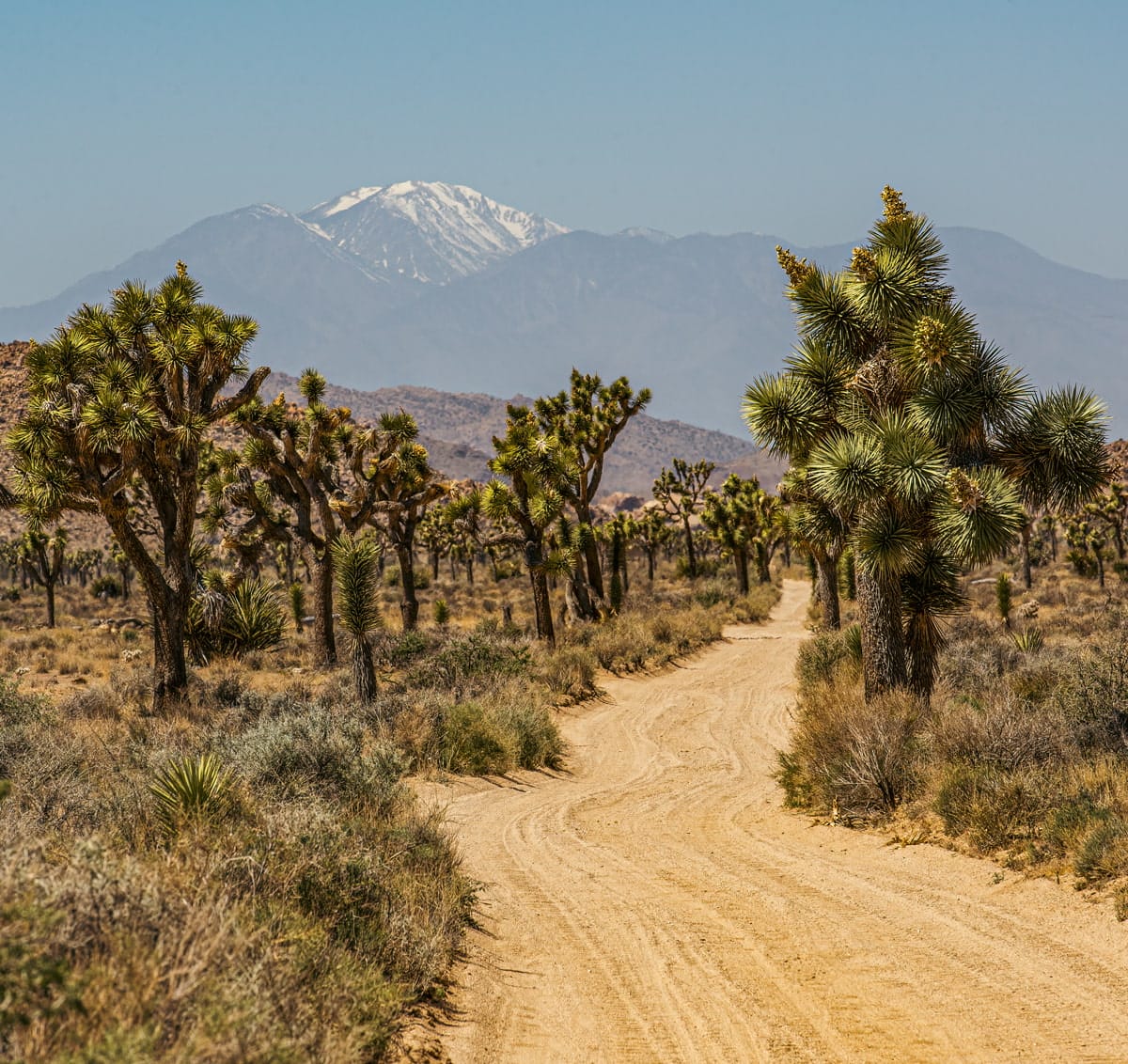 The wacky-looking trees and cartoon-shaped rocks of Joshua Tree National Park make it a joy to explore. Year-round, its arid desert landscape attracts climbers, road trippers, day hikers, and photographers, all looking for a little California warmth in a breathtaking setting.
Unlike some of the state's national park heavy hitters, like Yosemite and Redwoods, Joshua Tree is a little less chaotic and a lot more laid-back. You will find no restaurants or shops in the park, nor any hotels or lodges. Instead, you will discover a rugged expanse of unadulterated natural desert paradise punctuated by iconic Joshua trees.
Los Angeles Skyline from the Griffith Observatory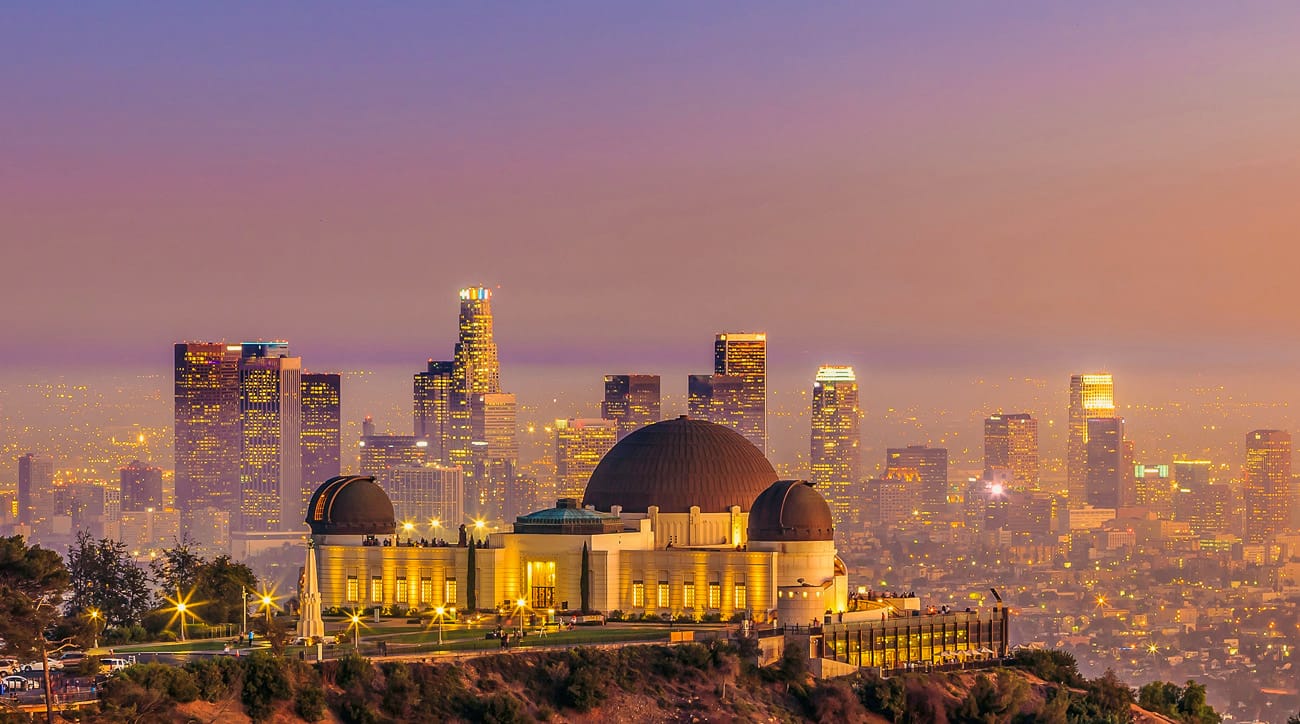 Los Angeles may be known as the City of Stars for its A-List Hollywood actors, but there is an abundance of stars to be seen above, too. For the best views of L.A. amid a dazzling night sky backdrop, head to Griffith Observatory. This distinguished tri-domed observatory is located on the south side of Mount Hollywood and treats visitors to unparalleled vistas of the bustling city below, the Pacific Ocean, and the Hollywood sign.
Inside, an astronomical number of exhibits await with learning opportunities galore, including an impressive planetarium. Plus, solar telescopes provide a spectacular peek at the cosmos. The best part? Entry to Griffith Observatory is free!
Carmel-by-the-Sea
For a quaint weekend escape, look no further than Carmel-by-the-Sea, a charming coastal town that looks out of a storybook. The city enacts a few strange laws – no street lights, no high heels allowed, no chain restaurants, and houses are named and not numbered – but this keeps the darling of the Central Coast pristine and authentic.
It's known as much for its Bavarian-style architecture and art galleries as it is for its outdoor spaces. Between shopping and restaurant hopping, visitors can snorkel, search for wildlife, and hike on one of the many nearby trails. When all else fails, head to the white sand beaches and go into full-on relaxation mode.
Emerald Bay, Lake Tahoe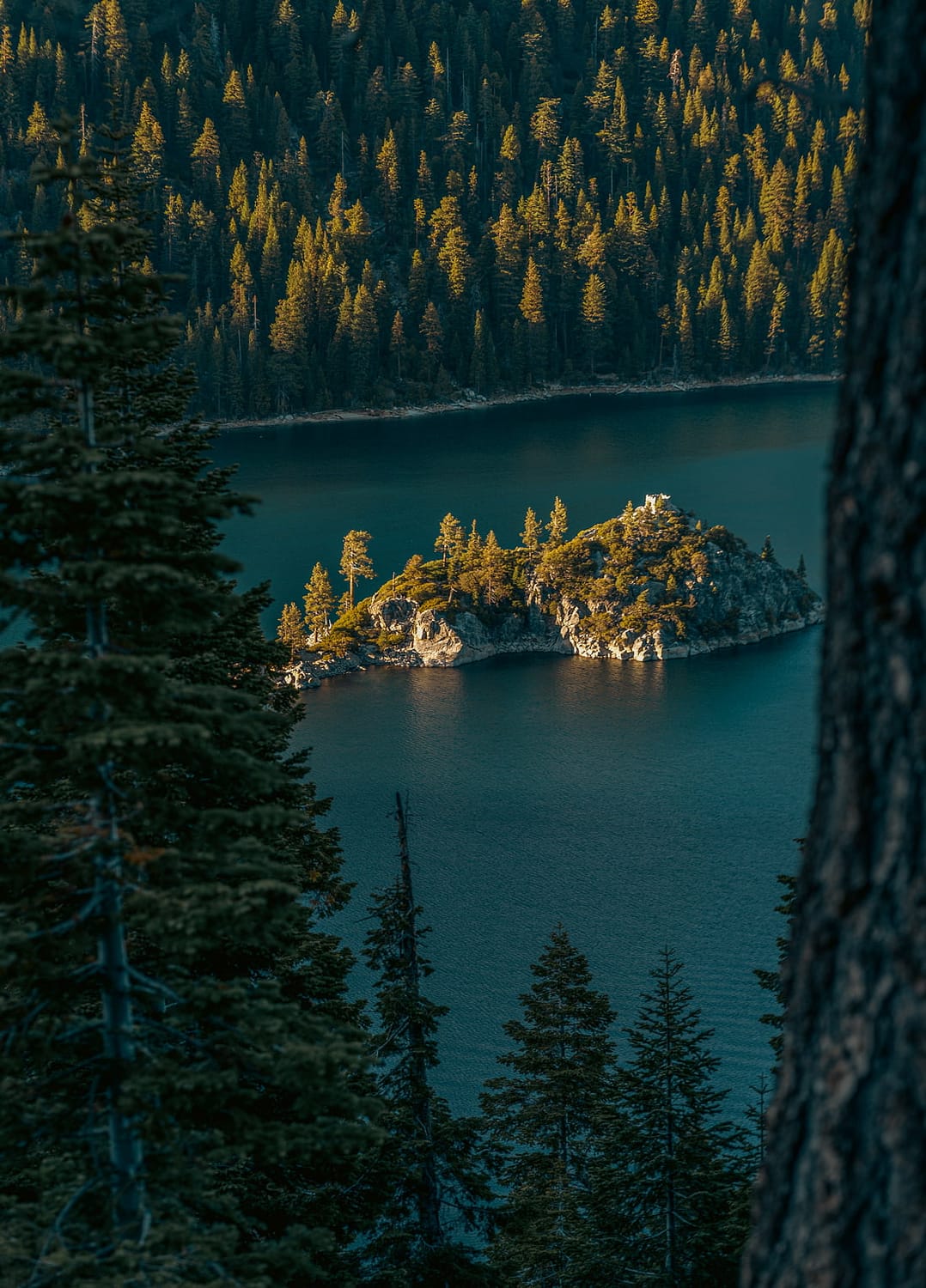 Since the 1800s, Emerald Bay has been the crown jewel of Lake Tahoe, a picturesque destination that straddles the border of California and Nevada. Its outdoor activities and unhurried atmosphere make it an ideal spot to rent a lakeside cabin and spend summer days soaking in the sun.
Unique experiences also abound, like the Emerald Bay Underwater Heritage Trail, a series of dive and snorkel sites with historical relics and regional history, as well as Vikingsholm Castle, a 38-room Scandinavian-style mansion that offers immaculate panoramic views of the bay below.
Palm Springs
Palm Springs is the luxurious playground of Hollywood stars, but you need not be famous to visit. Whether on a romantic getaway, a weekend girls' trip, or enjoying a warm vacation, its clear blue skies and swaying palm trees are eager to welcome you.
Filled with mid-century architecture and a bohemian atmosphere to match, Palm Springs is a laid-back destination to unwind – though if you're itching to party, there's no better spot than the Saguaro Hotel! If you can drag yourself from the poolside, head to Palm Canyon Drive to relish in the upscale shopping scene and fine dining options in its downtown core. While Palm Springs is best known as a luxury destination, there are a few offbeat sites to visit, too, like the Cabazon Dinosaurs and ultra-colorful Salvation Mountain!
Antelope Valley California Poppy Reserve
The Mojave Desert in Southern California is home to several stunning national and state parks, but its most eye-popping is Antelope Valley. Each spring, Antelope Valley erupts into a sea of orange as California poppies, the state's beloved official flower, brighten the landscape. While it is managed by California State Parks, it remains all-natural; no simulated water schedules or pruning here! Luckily, it's known for its consistent blooming season, but it is, of course, dependent on the year's heat and rain. To help plan your trip, keep an eye on the State's Bloom Status Updates to not miss out!
Santa Barbara
Nicknamed the American Riviera for its Mediterranean-like climate and scenery, Santa Barbara is a longtime favorite in the "weekend getaway" category. With its sun-kissed beaches, vibrant restaurant scene, and charming Spanish colonial architecture, it's easy to see why. Visitors instantly melt into its relaxed atmosphere and find rejuvenation among the palm-lined streets and sailboat-dotted coastline.
Whether strolling through galleries and shops in the bohemian-inspired Funk Zone, taking in the city's history at El Presidio Historic Park, or eating and drinking your way through town, Santa Barbara has something for everyone. It's also one of California's best wine destinations! Most vineyards are outside the city and make for wonderful day trips, while back in the downtown area, there is the Urban Wine Trail, which boasts over 30 wine bars along its route.